Mercury prize 'is the big one', says Guernsey nominee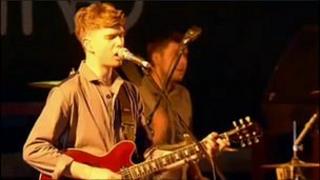 A Guernseyman whose band has been nominated for the Mercury Music Prize said it has been difficult keeping the news quiet.
Alex Robertshaw is the guitarist in band Everything Everything, one of twelve acts nominated for the UK award.
He said the award was one every band wanted and not telling anyone before the official announcement had been difficult.
The groups has been selected for its debut album, Man Alive.
"We found out about a week ago and have had to hold our tongues until it was announced [on Tuesday].
"It's everything bands really want. When I was growing up it was the big one and you'd go to record stores and you'd see all the mercury prize-nominated stickers and you just sort of took it for granted that that was a good album.
"I think it's really important for all bands that get started in this business, it's the big one that you always really want," said Robertshaw.
The guitarist admits he did not think their chances of carrying away the top prize were great, but he was "just happy to be a part of it".
He said it was "extremely difficult to get noticed" and it would only happen "by getting out there and just getting on with it".
The first Mercury Prize was awarded to Primal Scream in 1992.
The other 2011 nominees include Adele, Elbow and Tinie Tempah.
The winner of the award is due to be announced on 6 September.