Guernsey stop for man visiting all Commonwealth countries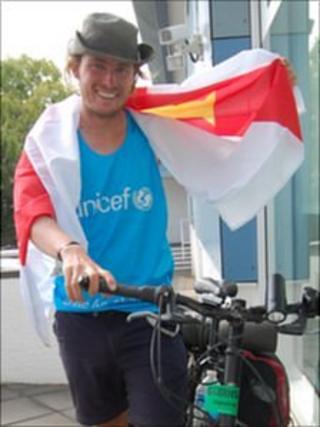 A Glaswegian man has visited Guernsey as part of a challenge to visit 72 nations before the Commonwealth Games are held in his home town in 2014.
Sean Newall said: "Arriving in Guernsey means I have now cycled the [equivalent of the] length of the equator. It's the home straight, some 600 miles left."
Cycling the globe is the first of four expeditions planned by Mr Newall.
He also intends to cycle around Africa and use pedal and sail boats in order to visit all 72 Commonwealth nations.
Mr Newall set off from Glasgow's George Square on 23 July 2010 aiming to ride 20,000 miles (32,000km), raise money for the charity UNICEF and return within a year.
After leaving Guernsey he will cycle through England, Wales, the Isle of Man and Northern Island before returning to Scotland.
Theft 'devastating'
He was delayed on his trip after he was robbed when he was 27 miles (43km) from Tangier, where he was heading to get a ferry to Gibraltar.
Mr Newall said he woke to the sight of three men with knives.
"I lost everything," he said. "Every Commonwealth nation [I visit] I collect a flag, they took all my flags, all my pictures, it was devastating."
He said although it was a setback, giving up was out of the question.
"I'm so close to the finish," he said at the time. "I've been going for 11 months every day, I'm not stopping now, I couldn't give them the satisfaction of beating me that way."
He said the biggest challenge of the ride was "all the mental games,... keeping yourself motivated every day".
Mr Newall said: "So many things have gone wrong, so many bad things that have happened. You just keep going, one day at a time."
He said the highlight of his ride was cycling the Karakoram Highway in Pakistan.
"It was stunning," he said.
"It's not very tourist friendly, so you get it all to yourself."