Guernsey Post makes £900,000 loss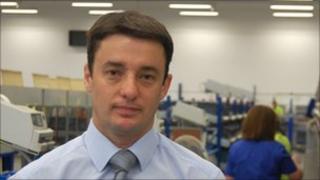 More jobs are to go at Guernsey Post after the company made a £900,000 loss in the year ending 31 March 2011.
The company said it had faced higher charges from Royal Mail and the first decline in bulk mail volumes for 20 years.
The company said it expected 2011 to be another difficult year but there was a clear strategy in place.
Guernsey Post said it was exploring new ways of working, which would mean some voluntary redundancies.
Chief Executive Boley Smillie said in order to return to profit it had to address the triple challenges of volume declines, threats to Low Value Consignment Relief and growing competition.
He said: "A key element of our strategy is to reduce our dependency on bulk mail... and very much a part of that is our saving programme which we launched towards the tail end of last year.
"We're going through a period of change in our sorting office now, which was always part of the plan.
"Once we get through the summer period, around September-October time, we'll look to make some more voluntary redundancies.
"I stress they will be voluntary, there's certainly no need for compulsory in the organisation and a combination of natural wastage will reduce our headcount in a structured way."