La Vallette littering prompts calls for more policing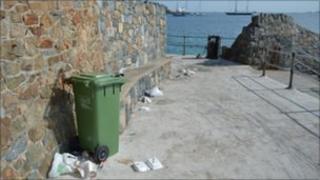 Swimmers have called for more police patrols and better CCTV coverage at La Vallette bathing pools after they found beer bottles, clothes and litter there.
The littering occurred two days after the area was declared an alcohol-free zone for the duration of August, for the third consecutive year.
Swimmer Maureen Tippett said: "I felt quite angry because the last couple of days we've been clearing up rubbish."
Guernsey Police said they treated the issue seriously and were investigating.
Janine Le Sauvage, who swims at the pools all year round and is a political member of the Environment Department, said: "I'm ashamed when I see it because the visitors who come here don't want to see that either.
"Nobody else would put up with that in a seaside resort.
"I would prefer to see, during the summer holidays, a more significant police presence, a special constable or more use of the CCTV camera they've got."
Andy Goodhall, the island's crime reduction adviser, said: "The area is patrolled by operational police officers, but we can't be everywhere at the same time.
"This is the first major problem to have been reported in the area this year and we are looking into increasing patrols there."