Plea to dog owners after oystercatcher killed at L'Eree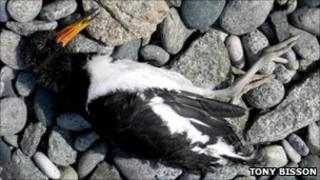 A young oystercatcher has been killed by a pet dog at L'Eree shingle bank, prompting a plea to owners to keep their animals under control on beaches.
Judy Down, a member of the RSPB, said she saw a gun dog killing the bird on Wednesday morning, while the owner followed the footpath with another dog.
She said: "It was chasing feeding gulls at first and then a young oystercatcher which it caught and killed."
"L'Eree is an important breeding area for ground-nesting birds," she said.
A spokesman at the Environment Department said: "Unless a dog is trained to go back to the owner when called, it should be kept on a lead."
The department said it was working with the RSPB and La Societe Guernesiaise on new signage at each end of the shingle bank.
The area forms part of an environmentally-protected wetland area, designated under the internationally agreed Ramsar Convention on Wetlands.