Guernsey Model Club to mark 40 years with Herm flight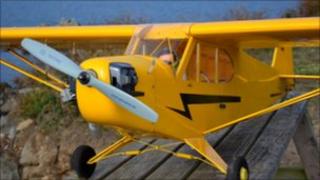 Members of Guernsey Model Club have announced an inter-island flight to celebrate their 40th anniversary.
They will attempt to fly a Piper Cub model plane, with a wingspan of 2.44m (8ft) from Guernsey to Herm and back.
Colin Rouillard, the president of the club, said: "The flight will take place in the next few weeks but the date will be determined by the weather."
Control of the plane will be switched between controllers in Guernsey, Herm and on a boat in between the islands.
Mr Rouillard said the first pilot would "take the model off from a strip adjacent to Bordeaux Harbour and then transfer control to a pilot located in a speedboat just offshore".
"The boat and pilot will then proceed towards Herm with the model circling overhead," he said.
After what is expected to be a flight of no more than 20 minutes, the plane will be landed on a strip in Herm before returning to Guernsey.
The return journey measures approximately 5 miles (8km).
Mr Rouillard said he hoped local people would support the event as it would raise money for local charities.
Help a Guernsey Child, Channel Islands Air Search and the RNLI stand to benefit.