Guernsey RNLI member's coastal tombstoning warning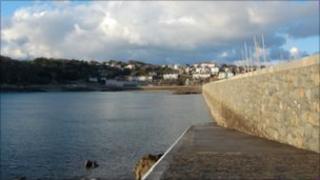 A member of Guernsey RNLI has said he fears peer pressure could lead to someone seriously hurting themselves while tombstoning.
The practice sees people climbing cliffs and walls around the coast, before jumping into the water below.
Captain Peter Gill said he had seen young people taking risks by jumping into areas with hidden rocks, such as the Castle Emplacement at Havelet.
He said: "One was egging the next one on in ever decreasing depths of water."
Capt Gill said: "That is absolutely stupid."
Rescue services around the British Isles have estimated that in the last five years, 14 deaths have been attributable to tombstoning.
But Anthony Ford-Parker, who operates a company specialising in outdoor pursuits, said the safety message was getting through.
His company, Outdoor Guernsey, advertises an activity called "coasteering", which involves "jumping and swimming in gullies and caves" but with participants wearing wet suits, buoyancy aids, helmets and boots.
He said: "I'm happy to say that since we've started looking at this, there have been no deaths or injuries. There's a bad way to do it and there's a good way to do it."