Guernsey bus journeys drop by 100,000 after fare rise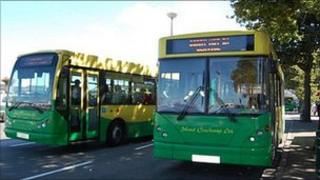 Passenger journeys on Guernsey's buses have dropped by almost 100,000 since fares were increased last August.
The number of individual journeys fell from 1,626,040 to 1,527,775 in the year since single-journey tickets were put up by 67% from 60p to £1.
The Environment Minister Peter Sirett said he was disappointed by the drop.
However, he said: "We've increased the income to the States by £336,000 a year... so the taxpayer is subsidising the bus service by that amount less."
Mr Sirett said he could not rule out further price rises.
The Environment Department made the increases following a recommendation by UK consulting company, Tribal.
Fergus Dunlop, the co-ordinator of Guernsey's bus-users group, said the reduction in bus use was disappointing.
He said: "The Environment Department is not a natural home for the management of the buses and the way that it drops to the bottom of the list of priorities time and again demonstrates that."