Guernsey South Show sees a resurgence of interest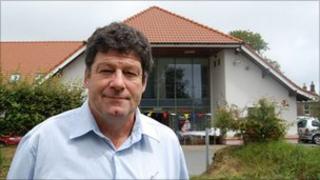 Guernsey's South Show has seen a 25% rise in entries over the past year, say organisers.
Richard Breban, the president of the Guernsey Southern Agricultural and Horticultural Society, welcomed the added interest in the two-day event.
He said: "Last year we had 1,200 entries but that's gone up to 1,500."
The event was held in fields beside La Route des Camps in St Martin's for most of its history but was scaled down and moved indoors in 2006.
This followed years of steady decline in the numbers of people attending or exhibiting.
In 2006 the show was held at St Martin's Primary School but since 2007 it has been held at St Martin's Community Centre.
'Wonderful exhibits'
Despite the revival seen this year, Mr Breban said it would be unlikely to return to the open air in future years.
He said: "It would be very difficult because you have to put on more of a show and more entertainment because you have to get more people in to pay for everything."
The annual show is open to exhibitors from the parishes of St Martin, Forest, St Peter Port and St Andrew, as well as the island of Herm.
Mr Breban said he was heartened by the renewed interest.
"To see all the wonderful exhibits is marvellous," he said.
"Particularly seeing the efforts the children have put into their entries."