Guernsey residents urged to find out about £80m project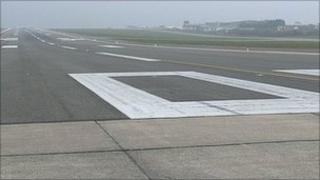 Guernsey residents are being encouraged to find out more about planned improvements at the island's airport.
Drop-in sessions are being held at the airport terminal on 15 and 16 August, with members of the project team on hand to answer questions.
The £80m project includes work on the runway, aprons, drainage system and airfield lighting, as well as safety areas at either end of the runway.
Details of an environmental impact assessment will also be available.
This is a 235 page report which looks at the potential effects of the development and identifies measures to reduce them.
This has now been published by the Environment Department for public consultation, as part of the formal planning process.
Deputy Bernard Flouquet, the minister of Public Services, said every aspect of his department's project had been planned in great detail and the drop-in was an opportunity for islanders to find out more.
He said: "This is one of the most complex and extensive engineering projects that has ever been undertaken locally. I am sure that there are many aspects which islanders still want to learn about or understand better."
The drop-in will take place in the airport terminal from 12:00 to 21:00 BST on both days.