Guernsey household recycling rate remains constant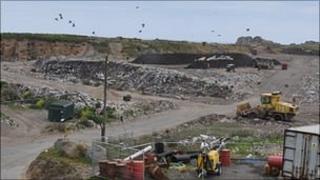 Guernsey's household recycling rate has remained steady, according to figures released by the States.
The figures for the second quarter of 2011 show that 47.4% of waste was recycled, up from 46.6% in the first three months of the year.
Public Services Deputy Minister Scott Ogier, said the figures were "very positive".
He added: "The challenge is further improvement to reach our target of more than 50%."
The figures were up from 45.8% in the second quarter of 2010, meaning nearly 200 tonnes less rubbish went to landfill than the same period a year earlier.
In 1997, the States set a target of 50% to recycle for both domestic and commercial waste.
The island has only exceeded that target in one quarter - during July to September 2010.
Not included in the figures is the use of the Longue Hougue waste recycling facility.
During the second quarter of 2011, more than 16,000 vehicles visited the site with nearly 2,800 disclaimers being signed to allow items to be taken away to be reused.
Deputy Ogier said: "The continuing use of the Longue Hougue facility is another really positive sign that islanders are re-using a lot of old items and material as well as recycling."