Ill Guernsey girl Kerry Bowden enjoys air balloon flight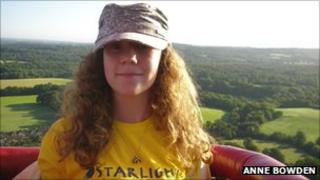 A Guernsey girl with a serious illness has been granted her wish to fly in a hot air balloon.
Kerry Bowden, 12, from the Castel parish, was invited by the Starlight Children's Foundation to fly with a pilot over the Surrey countryside.
Kerry, who was diagnosed with juvenile idiopathic arthritis in 2001, told BBC Guernsey her flight on Monday was "the most amazing thing I've ever done".
The illness has meant she has had to undergo regular therapy and treatment.
JIA, as it is known, is a disorder which affects the joints, although the cause of the condition is unknown.
Talking of the balloon flight, Kerry said: "[It] was smoother than a plane. We landed in a random person's field because we went off target a bit but the woman was fine with us landing there.
"I still can't believe that my wish came true. It was a once-in-a-lifetime experience."
Although her condition is not life-threatening, it can have a profound effect on quality of life.
Kerry's mother, Anne, said: "She has had to endure more pain than most people have to endure in their whole lifetime."
Kerry has recently enjoyed a period of remission, during which she has learnt to surf and to roller skate.
"She's just like any other girl her age," said Mrs Bowden. "She loves fashion, clothes, hair, handbags, make-up and music."