Guernsey racing crash man Ozanne 'touched by support'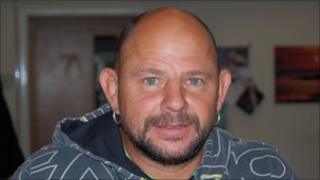 Guernsey racing driver Nigel Ozanne said he was touched by the support he received following a serious crash.
Mr Ozanne was treated for suspected spinal injuries after his sand racing car turned over on 13 August.
Speaking to BBC News, he said: "I've had phone calls from all over the place, England, all the national racing boys... all wishing me to get well soon."
He also said since the incident he had suffered emotional flashbacks and memory loss.
He said of the flashbacks: "When I'm asleep, I'm waking up screaming, but I don't know what I'm remembering at times."
Broken bone
A video of the crash was made available to BBC News.
After seeing the video, Mr Ozanne said: "It's just one of those racing incidents, and that's what happens, I'm afraid."
Of his injuries, he said: "I've got a broken bone in my knee, my shoulder feels quite badly damaged, I've got stitches in my arm, my ribs, just general bruises all over."
Mr Ozanne described the safety arrangements in place for sand racing in Guernsey as "fantastic".
He said he hopes to return to sand racing in the future.