Vallette cliff in Guernsey needs more stabilising work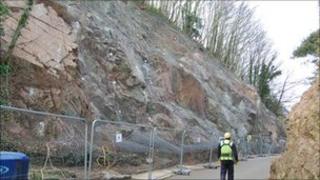 A cliff face near Guernsey's Vallette bathing pools needs more work to stabilise it, the Environment Department says.
The road leading past the pools in St Peter Port was closed in early 2011 after it was decided loose rocks in the area posed a risk to the public.
The area was stabilised, but the department said extra work to install rock catch netting was needed.
It is due to take place in autumn 2011, and a tendering process has begun.
It is currently unclear how much the work will cost.
The first stage of work to stabilise the cliff face was completed in March 2011.