Signs to stop tourist confusion planned for Guernsey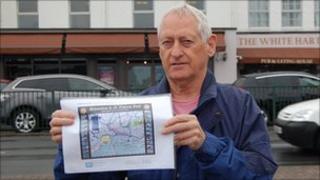 Authorities in St Peter Port have unveiled plans for maps to help stop tourists getting lost in the town.
The 'you are here' signs will give visitors an indication of their location and nearby landmarks as well as historical photographs.
Constables in Guernsey's capital submitted a planning application for display boards on the North Esplanade and by the Market Square steps.
The move came after a complaint from some of the traders in the Old Quarter.
They complained that not enough tourists knew they were there.
Dennis Le Moignan, Junior Constable for St Peter Port, said the boards will help welcome and orientate visitors and help them discover parts of the town they might not have otherwise.
He told BBC News: "They're quite colourful... they'll be on black poles, stainless steel poles, painted black which will fit in with the colour of the street furniture."
Mr Le Moignan also said: "We're doing this as a help to visitors to our island.
"This is a tourist island, and so we should help people to find their way around, make them feel comfortable."
The parish's constables hope to put up a third board near the town church if permission is granted for the first two.
Shoppers in St Peter Port had a mixed reaction to the proposals.
One told BBC News that she thought it was a good idea and liked anything that helped to promote the island.
However, another said: "I don't think you can get lost really.
"Everybody wanders around anyway, don't they, and tries to explore."
The most recent figures from the States of Guernsey show 304,000 people visited the island in 2009, of which 83% were on holiday.