Latvians pay tributes to woman found dead in Guernsey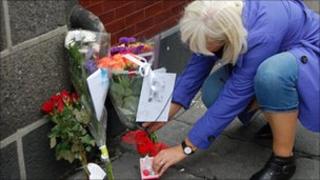 Members of Guernsey's Latvian community have been paying their respects to Liga Verse by laying flowers outside the flat where she was found dead.
Police inquiries continue into the "suspicious" death of the 24-year-old.
Lilita Kruze, the president of the island's Latvian Association, said: "We all come here to make our lives better for ourselves or our families.
"She came here with hopes for her life and now she's dead, it's hard to understand."
She said: "Guernsey has always been so peaceful and it's shocking to have something like this happen.
'Complex investigation'
"Especially because we had the tragic events happening a week ago in Jersey."
Guernsey police have repeated an appeal to the public for assistance as they try to trace Miss Verse's movements.
A 27-year-old man remains in custody, with the island's courts agreeing he can continue to be held until about 20:00 BST on Wednesday.
Police said a second post-mortem examination had been scheduled for Friday in what was a complex investigation.
The incident happened a week after six people were killed in a knife attack in Jersey.
A 30-year-old man was arrested in connection with the stabbings.