Two boys complete a charity swim from Guernsey to Herm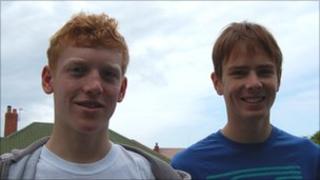 Two boys from Guernsey have completed a charity swim across the Little Russel to Herm Island in two hours.
Nick Parkes and Oliver Orton, both 16, undertook the swim in aid of the CLIC Sargent children's cancer charity.
Oliver Orton estimated the pair may have raised as much as £1,500 from the challenge, through online fundraising and collections on the day.
Herm lies about three miles (5km) east of Guernsey, across a stretch of water known as the Little Russel.
Oliver told BBC News: "The last hour was just very painful ... and neither of us can remember it.
"It wasn't nice because about half an hour in the Condor [ferry] came past us, so we had Condor's wake to deal with.
"The tides picked up, when we got nearer to Herm they changed direction, and that made us really struggle."