Guernsey and Alderney GCSE results above England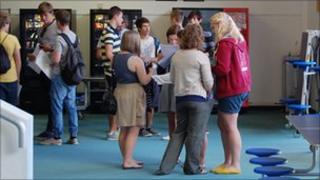 Early indications show students in the Bailiwick of Guernsey achieved better GCSE results than those in England.
Figures released by the Education Department show 75% of local results were graded between A* and C.
The figure is the same as 2010, while the figure for England has risen by 0.7% since 2010 to 69.8 percent.
The department said that of the 620 students in Guernsey and Alderney receiving results, 62.7% passed five or more GCSEs at grades A*-C.
England's figure will not be available until later in the year.
A total of 98% of Guernsey Grammar school pupils gained five A*-C passes.
The same standard was achieved by 42% of students at St Sampson's High School and 53% of Beaucamps High School pupils achieved the same standard.
At Elizabeth College the A*to C pass rate was just over 94%, with one pupil, Oliver Yerby, gaining 15 A* passes.
Blanchelande College reported an 88% A*-C pass rate with every single pupil getting at least five A* to Cs for the first time.