Road reopens after bus and sewage truck accident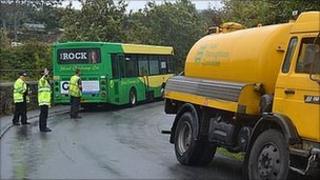 A collision between a lorry carrying sewage and a bus blocked a Guernsey road for nearly an hour.
The incident saw bus passengers showered with glass as two windows were broken in the collision, but no one was hurt.
Police attended the incident near the Le Mont Saint Garage, in St Saviour, about 12:30 BST.
The passengers were transferred to another bus and the two vehicles removed from the scene.