Guernsey animal charity too late to save Vale chickens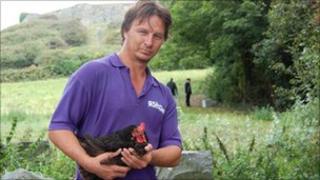 A Guernsey animal welfare charity has been thwarted in an attempt to save a brood of feral chickens.
The Guernsey Society for the Prevention of Cruelty to Animals (GSPCA) sent three staff to the area north of the Vale Castle to collect the birds.
However, after taking 16 cages with them, they found just one hen, with others having already been culled by the landowner, Ronez Ltd.
The company was given licence to exterminate the birds on 25 August.
This followed a period during which islanders were invited to claim the chickens prior to any cull.
The license was issued by the island's Commerce and Employment Department, which said the birds were a danger to traffic and were likely to spread disease.
On arrival at the site on Thursday morning, Geoff George, the charity's animal collection officer, said: "I'm really shocked by the fact there aren't any around today."
Ronez subsequently confirmed to BBC Guernsey that a pest control company had been working in the area on its behalf in the previous few days.
Unwanted chickens have been dumped in the area for a number of years. Another cull in 2005 cleared the site of about 200 chickens but an estimated 150 were again living at the site earlier this year.
Steve Byrne, the GSPCA manager, said he thought there were likely to be many more birds hidden in the undergrowth.
The charity has given a name to the one hen successfully retrieved, calling her "Vale".
Mr Byrne said: "We'll ensure it's well-cared for and finds a fantastic home.
"It's what we do the job for," he said. "We want to make a difference."