Fog causes Guernsey flight delays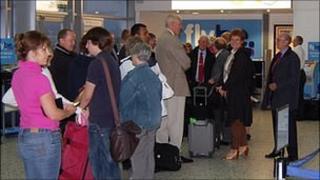 Flights in and out of Guernsey have been delayed for a second day due to poor visibility caused by fog.
Only the mail plane was able to land in the island on Friday morning with no flights able to depart.
Airport director Colin Le Ray said staff were working hard to hopefully clear the backlog of passengers by the end of the day.
On Thursday, Guernsey Airport had to appeal to hoteliers and guest houses to put up those who had nowhere to stay.
Mr Le Ray said emergency measures to house the stranded passengers were considered but enough beds were found.
The day of bad weather also saw the cancellation of the majority of the Battle of Britain Air Display.