Guernsey's coast to be cleaned by hundreds of islanders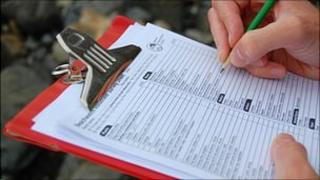 Hundreds of Guernsey people have signed up to take part in the biggest national beach litter pick.
More than 200 volunteers, including schoolchildren, families and voluntary groups, will record what they find along the coast before removing it.
The annual event is organised by the Environment Department on behalf of the Marine Conservation Society (MCS).
The results of the clean-up, held on 17 and 18 September, are then published in the annual MCS beachwatch report.
Volunteers survey a minimum of a 100m (300ft) stretch of coastline and the information helps to guide national policy on tackling the problem of marine litter.
In the 2010 MCS beachwatch report the average across the British Isles was 1,969 items per kilometre, with the Channel Islands recording a lower average of 1,105 litter items per kilometre.
For the island, beach visitors were found to be the main source of litter, totalling 32.1%, with fishing-related litter the second largest at 23%.
Environment Minister Deputy Peter Sirett said: "We're delighted that so many volunteers have signed up again for beachwatch and their support for this national survey is appreciated.
"I'd also like to thank all those people that we know pick up litter whenever they're walking on the coast all year round - they play a valuable role in helping to keep our beaches safe and attractive."