Move to retain 201 Squadron and Guernsey link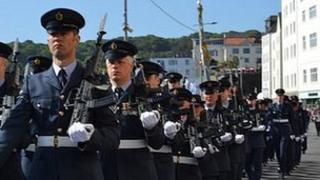 Two servicemen from RAF St Mawgan are working to maintain the relationship between 201 Squadron and Guernsey.
Guernsey's Own 201 Squadron was disbanded in May due to cuts to the UK government's defence budget.
The members of the squadron were moved to different units and bases around the UK.
Flt Lt Jeff Spencer, formerly of 201, said it was important to maintain the historic affiliation, which dates back to 1939.
He said: "Guernsey's relationship with this squadron is one of the oldest in the Royal Air Force so it's very important that we keep that arrangement going despite the fact that the squadron has disbanded."
The squadron, which was formed in 1914, was the first to fly Nimrods and was involved in the roll-out of the new Nimrod MR4A.
That project was cancelled in October as part of the same UK government defence review that decided on the disbandment of 201 and the closure of RAF Kinloss, where the squadron was based.
Flt Lt Spencer said: "One day that squadron number will come out of the big box and it'll be attached to a new unit, another aircraft, and it's for Guernsey to look after that arrangement and to influence the rebirth of the squadron in another aircraft type."
He and Wing Commander Graham House, the station commander of RAF St Mawgan in Cornwall, were invited to the island for Aviation Week.
Flt Lt Spencer said: "We see that RAF St Mawgan can help support Guernsey while the squadron is disbanded and over the next few years we'll help support this arrangement."