Businesswomen in Guernsey get extra support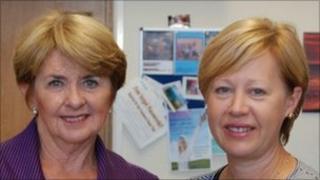 Businesswomen in Guernsey are being offered mentors in a new initiative.
The Women's Development Forum offers support via a panel of female business leaders such as Denise Mileham, director of a FTSE 100 company.
Michelle Johansen, founder of the group, said: "Those things aren't actually well known out there, that we really have these celebrity women."
The non-profit organisation was started in 2009 with the aim of helping local women to find greater career success.
One of the champions chosen was Connie Helyar, founder of International Private Equity Services in Guernsey.
She said: "I think it was certainly much more difficult to climb the ladder in an institution than it was to actually start my own business and get to the top very quickly.
"I think there is a need for a Women's Development Forum."
Ms Johansen said that in Guernsey 9.7% percent of directors were female, a figure she wanted to change.
She said: "Our vision is that by 2020 we will have 30% female leadership in the island."
Ms Johansen added: "We want to do this by cultural change, from the inside, so really helping support the women to lead that cultural change."