Harbour master calls for a £100m harbours upgrade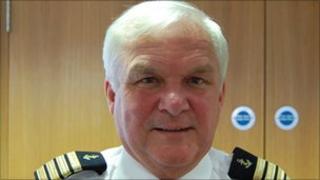 Guernsey's harbour master has called for £100m to be set aside to upgrade to the island's harbours.
Captain Peter Gill said the ports at St Sampson's and St Peter Port badly needed modernising.
He said providing additional marina moorings would be beneficial, but that upgrades to berths and the installation of new cranes were more urgent.
He added that Guernsey's harbours dated back more than 150 years, and described the island's situation as an "oddity".
Captain Gill described St Sampson's Harbour as a "medieval port ... trying to deal with 21st Century ships", but acknowledged that any upgrade would need to wait until other schemes, such as work to renew Guernsey Airport's surfaces, had taken place.
"I'm equally aware of the fact that these projects have to compete with everybody else's projects, whether they're health or infrastructure, it's for the States to decide where and when it is going to spend its own money."
The harbour master said there were no particularly unsafe areas, and that the restriction of access to some berths and walkways was a consequence of the tightening of security measures following the attacks in the United States on 11 September 2001.
'Bite the bullet'
On the issue of marina moorings, Captain Gill said: "We've built three marinas and they're all full, and we've still got a huge waiting list, and there's an awful lot of people in those marinas who, given the opportunity, would have a bigger boat than they already have."
He said there could be an opportunity to develop the Careening Hard as a commercial marina, but conceded that this was not a necessity.
Captain Gill went on to describe Guernsey's port situation as an "oddity".
He said: "There aren't that many places in the world that have to deal with 10m tides, and have ports in them.
"The fact that we're an island means that we don't have the choice of locating a port anywhere else, we have to deal with what we've got."
Guernsey's harbours are maintained by the States of Guernsey's Public Services Department.
A spokesman for the department said: "Long-term plans are being considered for the future of the harbours, and will be put to the States of Guernsey in due course."