Move to change parking on Salerie Battery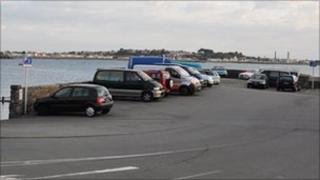 The dumping of unwanted vehicles has been cited as one reason behind plans to regulate parking on Guernsey's Salerie Battery.
The site has been traditionally used by boat owners to manage catches and put boats during the winter.
However, the St Peter Port constables have reported abandoned vehicles and long-term parking on the site.
The Environment Department has asked for a change in the law to allow it to introduce 10-hour and two hour parking.
Currently the area is not defined as an area of "controlled land" so parking restrictions cannot be put into place.
The proposals include provision to allow boat owners to continue over-wintering boats, have access to unloading facilities and manage catches.
The plans will be put to the States in October.