Royal botanical book on display in Guernsey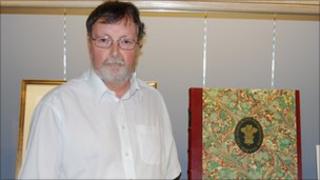 A botanical book and artwork have been put on display in Guernsey Museum.
The Highgrove Florilegium contains pictures of plants from the Prince of Wales' garden at Highgrove House.
Two copies of the book were brought to Guernsey for the display, along with a number of the original watercolour paintings that feature in it.
Each of the 175 copies of the book, which were published in 2008 and 2009, were signed by the Prince of Wales.
Seventy-two artists contributed to the project.
Alan Howell, senior curator of the museum, said: "The idea of hosting this exhibition came to me some while ago.
"I have contacts with the publishers who put the book together and with Guernsey's position as a Crown Dependency, obviously the monarchy is quite important to us, and the horticultural industry is also."
He said: "It seemed to me that there was a lot of synergy there and it would be a really good thing to host this exhibition.
"I've been sort of chipping away at getting permission to do so for several years, and I'm very glad it's finally come to fruition."
State of the art
Mr Howell added: "Effectively they're from the Royal collection, so the security and environmental hoops that we had to jump through in order to be able to host this exhibition are as stringent as any that we've ever had to meet."
He added that the book was special due to its size and visual appeal and the number of artists who had contributed to the project.
He said: "The reproduction and printing is the latest, state of the art stochastic lithography, the very best that you can do these days."
Mr Howell explained that the initial exhibition was held at the Garden Museum in London when the project was launched.
He said that a small number of international exhibitions had taken place in Japan, the United States and Holland, with Guernsey being the second museum in the British Isles to host the collection.
The curator said his favourite work was a painting of a clematis.
He said: "I just love the colours, the richness of it and it's not just about the botanical accuracy, but of course the aesthetic of the picture comes in to it."
The exhibition is at the Guernsey Museum until 31 December 2011 and includes an interactive computer presentation and examples of watercolours from each of the book's 72 artists.