Guernsey seagull killer illness mystery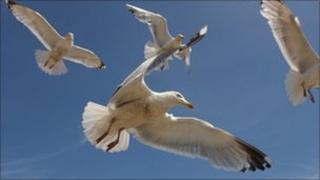 A Guernsey animal welfare charity has said it is unsure what killed 20 seagulls in a week.
The GSPCA said it had received 30 birds with a mystery illness since last Sunday, but only 10 had survived.
The birds were found unwell and barely able to stand at various points around the island's coast.
The charity said the birds may have eaten something thrown out as rubbish, or come into contact with a hazardous substance out at sea.
Test results on some of dead animals were not due back until next week, but avian flu had been ruled out, it said.