Donkeys raise more than £58,000 for Guernsey project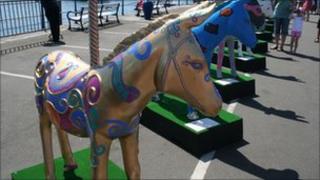 A set of painted, glass fibre donkeys have raised more than £58,000 for the Guernsey Adult Literacy Project (GALP).
The forty-one donkeys were auctioned off, after having been displayed around the island during the summer.
Trevor Wakefield organised the "donkey parade" which saw local groups and artists sponsor and paint the animals.
He said: "I think our jaws started to drop on the very first lot... that first one went for £1,100 and we were quite taken aback by that.
"The amounts being bid were just amazing, six of them went for over £2,000"
He said the funds will keep the group going for a year, and would give the group the opportunity to buy some new pieces of equipment.
A donkey called Oriana, decorated like a carousel pony and displayed in the St Peter Port market, fetched the highest amount.
Some were sold to private bidders, with some people discussing putting them in their gardens or conservatories, Mr Wakefield said.
He told BBC News: "It's become this huge community art project which is great, everybody that you speak to has really been supportive of this."
Some of the donkeys were vandalised in July 2011.
Mr Wakefield said the vandalism was all "water under the bridge", and the affected donkeys had been sold along with the others.