Guernsey pair's comedy series Jinsy hits national TV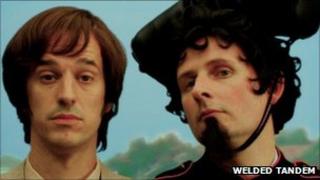 The comedy show This is Jinsy, penned by two Guernseymen, marked its series debut with a double bill.
Documenting the lives of a fictional island's residents, the programme was written by Justin Chubb and Chris Bran.
The pair secured some well-known names to appear in the series, including Harry Hill, Catherine Tate, David Tennant and Jennifer Saunders.
A pilot show was screened on BBC Three in 2010, and the series is scheduled to be shown on Sky Atlantic on Mondays.
Chubb and Bran feature in the eight-part series as Arbiter Maven and Operative Sporall, both of whom keep an eye on the island.
Wish list
Mr Chubb told BBC News the show's comedy was an acquired taste, describing it as a "marmite show".
"Some people may like it and others may just think 'What on earth was all that about?'
"Perhaps younger people might like it, it's hopefully got a lot of colour and energy.
"I think it will be very interesting for us to see who actually does end up watching and who likes it."
Mr Chubb said they had a "wish list" of performers they wanted to work with on the show.
"It's been absolutely amazing to work with all these wonderful people, we're very privileged."
He said Guernsey had some impact on the series.
"I think we've been quite playful with little Guernsey references within the names and a few little kind of in-jokes that Channel Islanders will recognise.
"But I think comparisons definitely stop there."
Mr Chubb said the programme had taken over a year to put together, and described it as a "labour of love".
Ahead of the first show being screened, he said: "It's quite a surreal experience."