Ten of Guernsey's best young artists go on display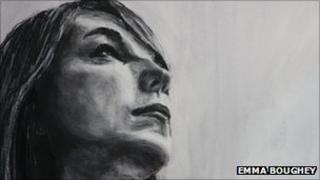 Ten art students have had their work displayed in a Guernsey gallery under the heading "10 of the best".
The work was chosen from the island's schools' and colleges' end of year shows.
Justiene Boughey, arts development assistant, chose the 10 students whose works have been displayed.
She said: "I looked at the students' final pieces as well as their supporting material."
She added: "I tried to pick students who were consistent throughout and had a good understanding of their media."
The work included photography, illustration, painting and sculpture.
Miss Boughey said: "We tried to get a broad range and something from students representing all of the schools."
Max Betley, who studied AS Level Art and Design at Elizabeth College, said his charcoal and ink pieces "Looking Forward" and "Looking Back" took inspiration from the sculptor Alberto Giacometti.
Rachel Patch, a BTEC National Diploma in Art and Design student, used Greek and Roman Mythology as her inspiration.
She had two pieces displayed in the exhibition - "Lotus Binding" and "Lotus Armour".
Miss Patch said: "I originally thought I would create fashion garments, but as the project developed, I began to focus more on sculptural garments."
The exhibition is on display in the greenhouse at the Guernsey Information Centre until 5 November.