Princess Anne to visit Guernsey in November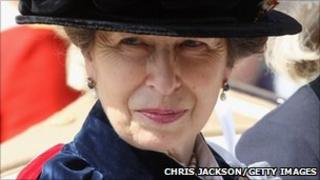 The Princess Royal will visit Guernsey on 8 November, the office of the island's Lieutenant Governor has announced.
The visit is to support charities and fundraising endeavours with which she has long-standing involvement.
Princess Anne is expected to visit schools, the St John Ambulance and Rescue headquarters and the new rugby clubhouse.
On her last visit in 2007 she visited Guernsey, Alderney and Sark in one day.
Princess Anne is the President of the Animal Health Trust (AHT) and she will be the guest of honour at a fundraising dinner for both AHT and prostate cancer charity Prostate Action.
During the day, The Princess Royal will visit two schools for children with learning disabilities, Le Rondin School and Centre and Le Murier School.
The Princess Royal is the royal patron of the Wooden Spoon Society, which has provided both schools with equipment.
She is also the commandant-in-chief of the St John Ambulance Cadets and will visit the St John Ambulance and Rescue Service headquarters, as well as St Peter Port Harbour to visit the marine ambulance .
During her visit, Her Royal Highness will also visit the site of the new rugby clubhouse at Footes Lane.
She has a long-standing connection with rugby union and is patron of Scottish Rugby.