Guernsey sick seagulls: Tests find E. coli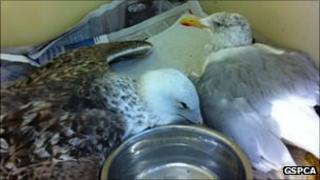 Traces of E. coli have been found in seagulls found ill in Guernsey but the source of the outbreak is still unclear, the GSPCA said.
The charity said it had taken in 50 birds with a mystery illness over the past two weeks, many of which had died.
The GSPCA said some of the birds had since recovered and were ready to be released.
Steve Byrne, GSPCA manager, said E. coli bacteria had been found during testing.
He added: "It's one of the biggest epidemics of ill gulls that we've had in a long, long time."