Drug smuggling attempt 'like 1970s film' says judge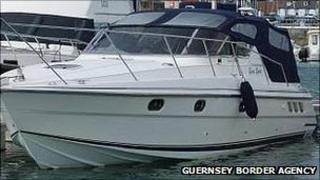 Two Guernsey men have been jailed for importing drugs after an attempt "reminiscent of a 1970s film plot".
Judge Russell Finch made the comment while passing sentence on island residents Steven Keith Mourant, 30, and Christopher John King, 60.
The pair pleaded guilty to drug trafficking offences in Guernsey's Royal Court on Tuesday.
Mourant was given a total custodial sentence of four years and four months and King a total of four years.
Both were charged with importing 3.27kg (7lb) of class B drug cannabis resin.
Mourant also faced charges of possessing 92.76g (3oz) of herbal cannabis and 10.4g (0.4oz) of cannabis resin, both class B controlled drugs.
Vessels seized
The men were arrested on 23 April 2011 as part of a joint operation between the Guernsey Border Agency and Guernsey Police.
Officers had observed King place a package containing the drugs on a marker buoy near to the Platte Fougere lighthouse, north of Guernsey, on a return trip from the UK.
King then continued his journey on board the Gusto Spirit to St Sampson Harbour.
Mourant, on board his smaller vessel Cloud Nine, retrieved the package and spent some time fishing before returning to his mooring at Les Petils Bay and landing the drugs.
Rob Prow, Chief Officer of the Guernsey Border Agency, said it had been a "sophisticated plot" that had failed due to the island's law enforcement agencies working together.
He said both vessels used in the smuggling attempt had been seized and would be forfeited under the law.