Guernsey coast shown off in stamp collection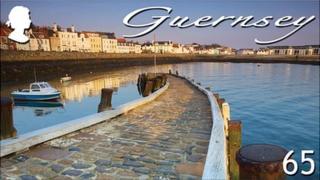 A Guernsey photographer whose work features in a European stamp collection said it was a privileged to have his pictures chosen.
Chris Tostevin-Hall's landscape shots were chosen by Guernsey Post as the island's entry in an international release of stamps.
It forms part of the third edition of the Beautiful Corners of Europe series.
Mr Tostevin-Hall said: "I'm really proud to represent Guernsey and the beauty of the island."
He said: "There are many good seascape photographers in Guernsey.
"Wherever you go the locations have been done but the weather conditions, the tide conditions, the light, they're always different, so you can always get an original shot."
The island is one of 12 members of the Small European Postal Administrations Cooperation (Sepac) to contribute to the collection.
The Guernsey stamps range in price from 36p to 70p and include views of Bordeaux Harbour, L'Ancresse Bay, Petit Port, Salerie Harbour and Victoria Marina.
Dawn Gallienne, head of philatelic at Guernsey Stamps, said: "As part of our commitment to Sepac we have, since 2007, produced a stamp for the special edition folder which bears the cooperation's logo.
"Produced biennially, the folder has taken on a common theme, which has given us the chance to showcase some of the wonderful scenery that Guernsey has to offer.
"In previous years we have featured Saints Bay Moorings, also known as Saints Harbour, in 2009 and Point Robert Lighthouse on the island of Sark in 2007."
The limited edition - of which 7,700 have been created - contains 12 stamps and a gift coupon from each of the 12 participating postal administrations.
The coupons can be mailed to the respective postal administrations to receive additional information and complimentary gifts.