Guernsey loophole tower restoration work begins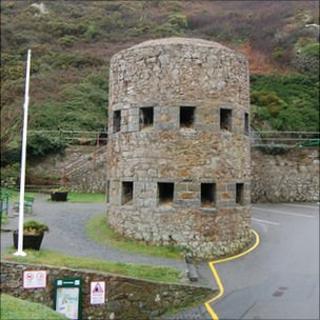 Work has started to renovate one of Guernsey's loophole towers, which date back to the 18th Century.
Guernsey Museums aims to complete the work by June 2012 as a legacy project for the Queen's Diamond Jubilee.
Helen Glencross, historic sites curator, said the work involved putting a new lime render on the top of the tower and repointing the stone.
She said: "We hope it gives this building a longer life for visitors and islanders to enjoy in the future."
She said the lime mortar being used was as traditional as possible: "We had it tested and it was proven there was beach material in the lime mortar originally.
"So we have had permission to take some sand off the beach at Petit Bot and that will be used in the new rendering at the top of the tower."
The permission from the Forest Douzaine meant the workers could only take sand from the west side of the beach as it is on a parish border, and the east side of the beach comes under the authority of the St Martin's Douzaine.
Plans have been submitted to open the bottom of the tower at Petit Bot as an information point.
If approved the internal work would start in the new year, although the upper levels and the roof of the tower would remain closed to the public for safety reasons.
Mrs Glencross said: "We're hoping, with the help of the Forest Douzaine, to open the ground floor of the tower, as an information point about the towers, how they fit in to local history and also the mills that were down in Petit Bot as well.
"This tower is very significant to the history of the island, the defence of the island."
The first of the 15 towers to protect the island from potential invasion from France was built in 1778.
They were built to a standard design with a height of 30ft (9m), an external diameter of 20ft (6m) and an internal diameter of just over 12ft (3.7m).
The towers were defended by muskets fired through the loopholes, which gave them their name, and additionally by 12-pounder cannon mounted on their roofs after 1803.
They were a part of the island's coastal defence including forts, watch-houses and cannon batteries.
Threat of invasion
Mrs Glencross said Tower No. 13 was built in 1787.
She said: "It was built here as Petit Bot being sandy is one of the few landing places on the south coast of the island and islanders were really worried about a French invasion."
The move to upgrade the island's defences followed the alliance of the French with America in the American War of Independence and fears over the threat of invasion of the Channel Islands.
The towers continued to be manned by the island's militia throughout the French Revolutionary and Napoleonic Wars.