Plans submitted for La Vallette cliff work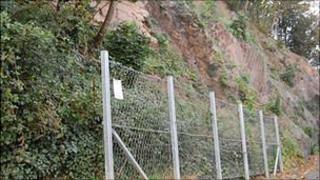 A section of La Vallette in Guernsey could be cordoned off to the public if plans are approved.
A number of stabilisation projects have been carried out on the cliff face in the past five years due to the rock becoming weak and starting to crumble.
Jenny Greening, project manager for the Environment Department, said the work would prevent islanders getting hurt.
She said: "We've had several small rock falls but it's only going to get worse as the rock becomes more weathered."
Ms Greening said: "There isn't the money to pin the whole of the rock face so instead we're going to set up an exclusion zone to stop people getting too close."
She said plants would be put either side of the fence, which as they grow would disguise it.
The plans include extending the entrance of La Vallette Underground Military Museum, which is housed in a World War II tunnel complex, and shoring up the coastal path.
The cost of the work is as yet unknown as the tendering process, which began in August, is ongoing.