More traffic-calming at Forest School 'ruled out'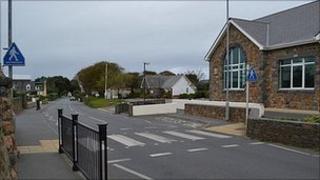 Additional traffic calming measures near the Forest School have been ruled out by the client project manager of Guernsey Airport's redevelopment.
Gary Le Huray, head teacher of the school, and parents have raised concerns about the amount of lorries passing by during the project.
A bridge or a tunnel and slow down signs have been suggested.
However, Gerry Prickett said stopping lorries going past during opening and closing times was sufficient.
The lorries will be carrying aggregate to be used in the two-year project to upgrade the airfield.
Mr Prickett said if anyone spotted a lorry speeding he wanted them to call the contact number, which will be given out during the project, so action could be taken.
He said, if the planning application is approved during October, work to strip the grass and top soil at the proposed batching plant site opposite the airport entrance could start before the end of December and aggregate would start arriving at the airport in January.