Guernsey's The Risk angry at name of X Factor act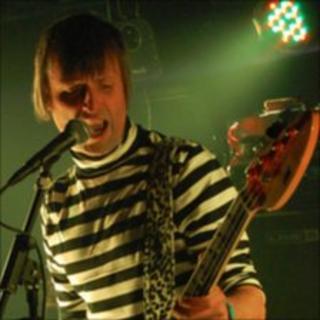 A Guernsey musician is angry that a band on TV talent show X Factor is using the same name as his group.
Mark Le Gallez, of Guernsey band The Risk, said he sent a friendly email to the show, asking for a change of name for its group, also called The Risk.
He said that he had yet to receive any acknowledgement.
The X Factor said that it had been contacted by three UK bands called The Risk but that none appeared to be able to claim exclusive rights to the name.
Mr Le Gallez said: "I thought after five albums, a best of, various singles, tours, I thought pretty much we were entitled to use the name, we were The Risk."
Mainstream recognition
Mr Le Gallez said he was less than happy when he found out, adding: "I was angry, I was pretty cross, to be honest."
When asked whether he knew of the existence of a register of band names, he said he did.
However, he added "I believe there is a register, but I mean when the band was formed in 1984, we weren't really thinking about that."
Mr Le Gallez said he had one aim for his campaign - a change of name for the X Factor act.
He added: "You can't walk over the little guy all the time, can you?"
A Facebook campaign has been set up, and the band has so far received support from fans and friends in Guernsey, the UK and the US.
Mr Le Gallez said he was now going to consider his options.
A spokesperson for X Factor said: "The X Factor has been contacted about three different groups called The Risk from different parts of the UK but none of them appear to have sufficient current mainstream recognition to claim the exclusive right to the name."