Guernsey Airport runway work approved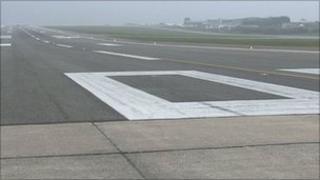 Planners have approved work on Guernsey Airport's runway, but an open meeting is to discuss the project.
The Environment Department board members will discuss the project at Beau Sejour on Tuesday morning.
More than 40 letters have been received by the Department in relation to the project.
Two expressed support, but the remainder have raised a number of concerns about the project and its impact on the surrounding area.
Some of the issues under the spotlight in the letters were environmental degradation; noise, air and light pollution; and the impact on nearby properties, the department said.
The runway project is the most costly capital project ever undertaken by the States of Guernsey.
The £80m project aims to give the airfield a 30-year lifespan.
The proposed work includes a renewal of drainage systems and the relocation of the runway.
The planning meeting is due to be held at the Cambridge and Delancey Rooms at Beau Sejour at 09:00 BST on Tuesday.