Guernsey's Victorian collection to go after 17 years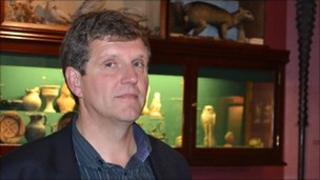 An exhibition of artefacts from all over the world is to be removed from the Guernsey Museum and Art Gallery after 17 years on display.
The Victorian Collectors opened in 1994, to show the varied, exotic items brought back to Guernsey by natural biologists and historians.
Most of the items in the collection will be stored, while some will be put on display elsewhere in the museum.
The room will reopen in 2012 as a gallery of the museum's best paintings.
Jason Monaghan, the museum's director, said: "We will display about three dozen of our most famous paintings."
"These are the ones that people are always asking to see and they're always surprised when they're not on show," he said.
Mr Monaghan said it was good practice to remove an exhibition after 10 years or so, in order to refresh the museum.
He also said the cabinets currently being used to display the Victorian artefacts did not feature safety glass and that the ceiling was in need of repair.
One of the items which will be shown in a future display is a carved tree fern figure which was brought to Guernsey from the South Pacific island of Vanuatu in the 19th Century.
It was chosen as one of BBC Guernsey's museum objects for the A History of the World project in 2010.
Mr Monaghan said some objects currently on display would probably be destroyed.
He said: "We are disposing of a very small amount of material - mainly things which are duplicates or things that are too badly damaged to show."
The exhibition will close on 31 October and the remainder of the rooms at the museum's St Peter Port site will stay open while the gallery is prepared.