Guernsey Airport runway plans approved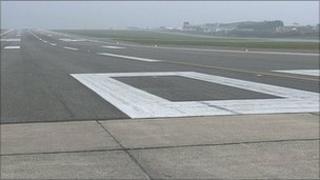 Two crucial parts of the £80m refurbishment of Guernsey Airport have been approved.
A majority of the Environment Department's five members approved the runway work while plans for a temporary dock to import materials at Longue Houge were approved unanimously.
The runway plans had 33 conditions while the dock plans had 16 conditions attached.
The runway work is scheduled to take two years to complete.
During the planning process more than 40 representations were made as part of the public consultation.
Work planned for the airport site includes four new facilities for processing and storing construction material, offices for staff at the sites and the permanent closure of La Mare Road.
New drainage
The airport runway work includes resurfacing the current runway, repositioning it 120m to the west and creating longer safety areas at both ends.
The areas next to the terminal where aircraft park will also be replaced and a completely new drainage system installed.
The taxiways, which link the aprons and runway, will be resurfaced and realigned, along with new ground lighting and navigational aids and the approach lights to the east and west of the airport will also move.
The Environment Department conditions included no changes being made to the plans without permission, that the work begins within three years, the approval of a traffic management plan, and a construction environmental management plan being agreed for each of the processing sites.
The return of the land to its previous state, minimising the visual impact of the development and the environmental impact of the work are the main focus of a number of the conditions.
The department also ruled it would allow no changes be made to the St Sampson's breakwater, which was built in the 19th Century, without its prior permission.