Woman arrested after Les Genats armed stand-off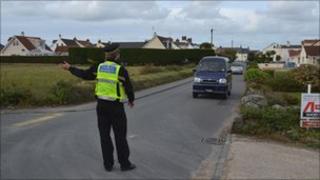 A woman has been arrested after a stand-off with armed police at Les Genats Estate.
Police sealed off the estate for nearly six hours from 15:00 BST on Tuesday.
Officers said they were concerned for the safety of a 31-year-old woman and a nine-month-old baby, during what they described as a domestic incident.
The woman was arrested following lengthy negotiations. The baby was unharmed. Neither can be named for legal reasons.
The area around the estate was cordoned off by Guernsey Police, Civil Protection Volunteers and traffic wardens.
Officers diverted traffic away from the Castel parish estate, denying access to residents.
Some congregated at the junction of Route de la Hougue du Pommier and the Rue Francais, waiting to be told when they could return home.
Table tennis and cricket events at the nearby indoor sports complex had to be cancelled for lack of access.
Police apologised for the inconvenience to people on the estate.
Insp Terry Coule, of Guernsey Police, said: "We are grateful for the patience of those who were inconvenienced by this operation.
"However, events such as these can unfortunately have tragic results if not taken seriously."