'Radar blip' in fatal Condor Ferry crash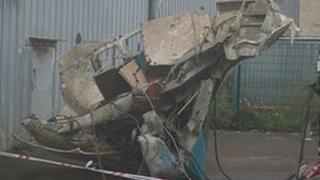 An investigation into a fatal collision between the Condor ferry and a French fishing boat has found the crew on the ferry failed to spot a radar blip.
The report by the French maritime organisation, the BEA, said the radar should have alerted them to the boat.
The Condor Vitesse was travelling to Jersey from St Malo when the collision with a French potter happened in March. A fisherman was killed in the incident.
The report said the ferry captain did not mention seeing a boat on the radar.
The 42-year-old French fisherman, Philippe Lasaulnier, died as a result of the collision. His two crew survived.
Catwoman conversation
The BEA listened to voice recordings from the bridge of the Condor Vitesse, which revealed the crew did not mention the radar blip that should have alerted them to a vessel in their path.
The report did not name the Condor crew, but said the captain was a 56-year-old Frenchman who had been an officer since 1977.
It said the officers on the bridge were having a trivial conversation about watching the film Catwoman the previous night.
The 55-page report also criticises the speed at which the ferry was travelling in poor visibility.
It is not clear whether legal action will be taken.