Treasury boss says Guernsey must have fewer deputies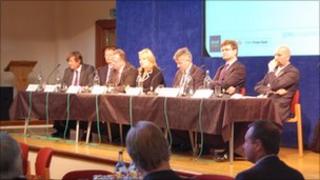 Guernsey's Treasury and Resources minister has claimed the island would be better off if it reduced the number of its politicians by a third.
Deputy Charles Parkinson said: "The States of Deliberation would work better as a debating chamber if there were 30 deputies instead of 45."
"It would make for more effective and focused debates," he said.
Deputy Parkinson was speaking at the inaugural Guernsey Review event - a seminar for business professionals.
He also used the event, held at St James on Wednesday, to argue for politicians' salaries to be raised significantly.
He said: "Deputies' pay needs to be increased if people who are working in skilled and professional jobs are to be persuaded to come and work for the States."
Deputies are currently paid £22,000 a year, while department ministers receive an additional £15,000.
Salaries for States members were first introduced in 2004.