Guernsey's dairy industry to be debated in November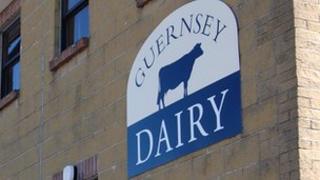 The commercialisation of Guernsey's dairy industry will be debated by the States at its November meeting.
In a report published in May, the Dairy Industry Review Panel recommended the States-owned entity become a "separate limited company" - Guernsey Dairy Ltd.
The States would "retain all the issued shares in the first instance".
Although written by the review panel, the report will be presented to the States by the Commerce and Employment Department, which urges caution.
Milk distribution
It said any commercialisation of the dairy should be subject to a separate report examining "matters such as costs and benefits, governance and the protection of employment of the current dairy staff".
Significant changes to the current methods of milk distribution are also recommended by the report.
Shops would be supplied their milk and other dairy products directly by the dairy, rather than the milk retailers in whose zone they were situated.
The panel has said this should be achieved by 2015, with compensation paid to distributors whose business is affected.
The report also calls for "reciprocal product manufacture" with Jersey Dairy.