Guernsey boat owners given storm warning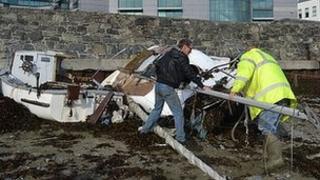 Guernsey boat owners have been warned about the dangers of trying to recover vessels during storms by the island's harbour master.
Winds of up to 43 knots blew two boats off their moorings in Belle Greve Bay into the harbour wall at Les Banques.
Harbour master Captain Peter Gill said he was glad none of the owners tried to get to the boats during the storm.
He said: "Safety of life is of far greater importance than safety of property."
Captain Gill said: "Where the waves are rough and reflected off the seawall it is very dangerous for individuals to go down there and try to protect their property."
Warnings have been issued for a 9.3m tide at 18:08 BST on Tuesday with a force 5-6 wind and a 9.5m tide at 06:36 on Wednesday with a force 4-6 wind.