Guernsey hospitals made smoke-free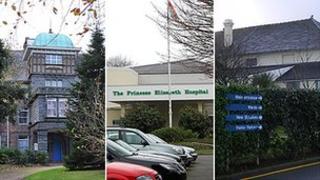 The grounds of Guernsey's hospitals will be made smoke-free from 2012, the Health and Social Services Department has announced.
Smoking will be allowed in the existing smoking shelters, which will be moved at least 15m from windows and doors.
It will be the first time smoking outside will be banned in the island.
Dr Stephen Bridgman, director of public health, said: "The revised policy provides greater protection for service users, visitors and our staff."
He said: "Smoking remains a major cause of preventable premature death and ill health."
The changes at Princess Elizabeth, King Edward VII and Castel Hospitals follows a two-year consultation on the department's smoking policy.
As part of the change staff will be offered support and three months of free nicotine replacement therapy.
Under the new policy any personal vehicles used for smoking are to be parked at least 15m away from windows and doors and all staff who smoke will be asked to take reasonable steps to protect service users and colleagues from the chemicals and smell of tobacco smoke by covering their working clothes when smoking.
The department said the policy for continuing care homes would be assessed on an individual basis and developed with the help of staff.