Guernsey Voluntary Service named charity of 2011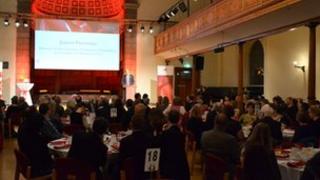 Guernsey Voluntary Service was crowned charity of 2011 at the island's first Community Awards.
The service was chosen ahead of 19 Bailiwick of Guernsey charities nominated.
Formerly the WRVS or Women's Royal Voluntary Service, it has been active in the islands for more than 60 years and has more than 500 volunteers.
Judge Gerald Hough said it had shown "an outstanding long-term commitment to elderly and disabled welfare".
He said: "It is all organised with a precision that would make a logistics expert weep with joy."
The charity's chairman Ross Paisley said: "The support we have from our volunteers and from Guernsey is fantastic... this is the icing on the cake."
Roger Allsopp, who became the oldest man to swim the English Channel in August, was named the winner of the Outstanding Individual Achievement Award.
The 70-year-old's swim raised thousands of pounds towards cancer research at the University of Southampton.
The Guernsey Adult Literacy Project was recognised for its Donkey Parade, which saw 42 glass fibre donkeys decorated before being installed in various locations around Guernsey.
For raising £58,000, the project was given the Fundraising Team of the Year Award.
Judge Suzanne Heneghan said: "The judges loved the unique and original approach.
"It captured the imagination of the whole community and proved to be highly successful."
Other awards given out were the Corporate Social Responsibility Award for OSA Recruitment, for offering free services for Bailiwick charities looking to recruit staff, and the Overseas Award for the Tumaini Fund.
The charity, founded by Dr Susan Wilson, supports 20,000 Aids orphans in Tanzania.
The award recipients were given money to go to a charity or community project of their choice, £3,000 for the Guernsey Voluntary Service and £2,000 for the other four winners.
A special award was presented in memory of Dave Purdy, a long time campaigner for disabled rights who died in 2010.
The awards were established by the Guernsey Community Foundation, which formed in 2010 to "promote philanthropy and charitable giving" to make improvements to the community and for those in need.
Chairman Stuart Falla said: "We had more than 70 organisations nominated so for the first time round this has been a great success."