Replacement of failing sewage plant could cost £11m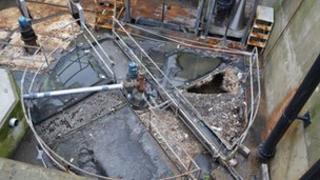 Guernsey's main sewage treatment plant needs £11m for an essential upgrade, it has been revealed.
The Public Services Department is to ask politicians to approve a 17-month renovation project starting in January.
If the States approves the expenditure at its December meeting a new inlet works and stormwater storage facility will be constructed at Belle Greve Bay.
Bernard Flouquet, the PSD minister, said the plant now in use was 40 years old and "constantly breaking down".
"Spare parts for the existing plant are now impossible to obtain so repairs are lengthy and expensive," he said.
Required regardless
It is expected the States will debate the installation of fuller sewage treatment in January.
However Deputy Flouquet said the £11m project would be required regardless of the outcome of that debate.
The department estimated the cost of the project at £8.5m in 2007.
Deputy Flouquet said the discrepancy was due to inflation and the use of additional pumps (not included in the original estimate) which would reduce maintenance costs.
If approved, the work will be undertaken by Trant (Guernsey) Ltd.